Brink's has a tradition of trust and a reputation for flawless reliability. The company currently employs more than 70,000 people in the world and operates in more than 100 countries. Thousands of companies around the world today entrust Brink's with their most precious goods.
Brink's incorporated one of the main providers of armored vehicle transport, the services related to the automated teller machines, the cash processing and the currency and other value-added services from financial institutions, retail businesses and other private and public organizations around the world.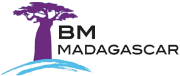 BMM (Banque des Mascareignes Madagascar) is a subsidiary of BCP Bank (Mauritius) Ltd which started its activity on the 1st April 2011.
BMM benefits from the commercial synergy and the know-how of BCP Bank (Mauritius) and the BCP group, the sixth largest banking group in Africa (by size of equity) , and to which the Mauritian subsidiary is attached.

Since its launch in 2011, Orange Money has revolutionized the daily lives of Malagasy. It is a money transfer and payment service accessible directly via mobile phone, and is available to Orange's client base.
Orange Money, it's a great adventure that, step by step, has opened up new services for Malagasy, making their daily lives even more practical to bring greater ease and efficiency to their daily lives. Today, Orange has gradually evolved to be able to offer the wide range of services we use every day, and which, since thanks to the mobile phone , are no longer chores (bill payment, credit purchase …). And it does not stop there, because Orange Money still has many to offer for its clients. In addition to bill payments and credit purchases, Orange Money has many services to offer its clients.
SECURING TRANSFER OF FUNDS
ACCESS TO BANKING MICROFINANCE
MOBILE BANKING